The Netherlands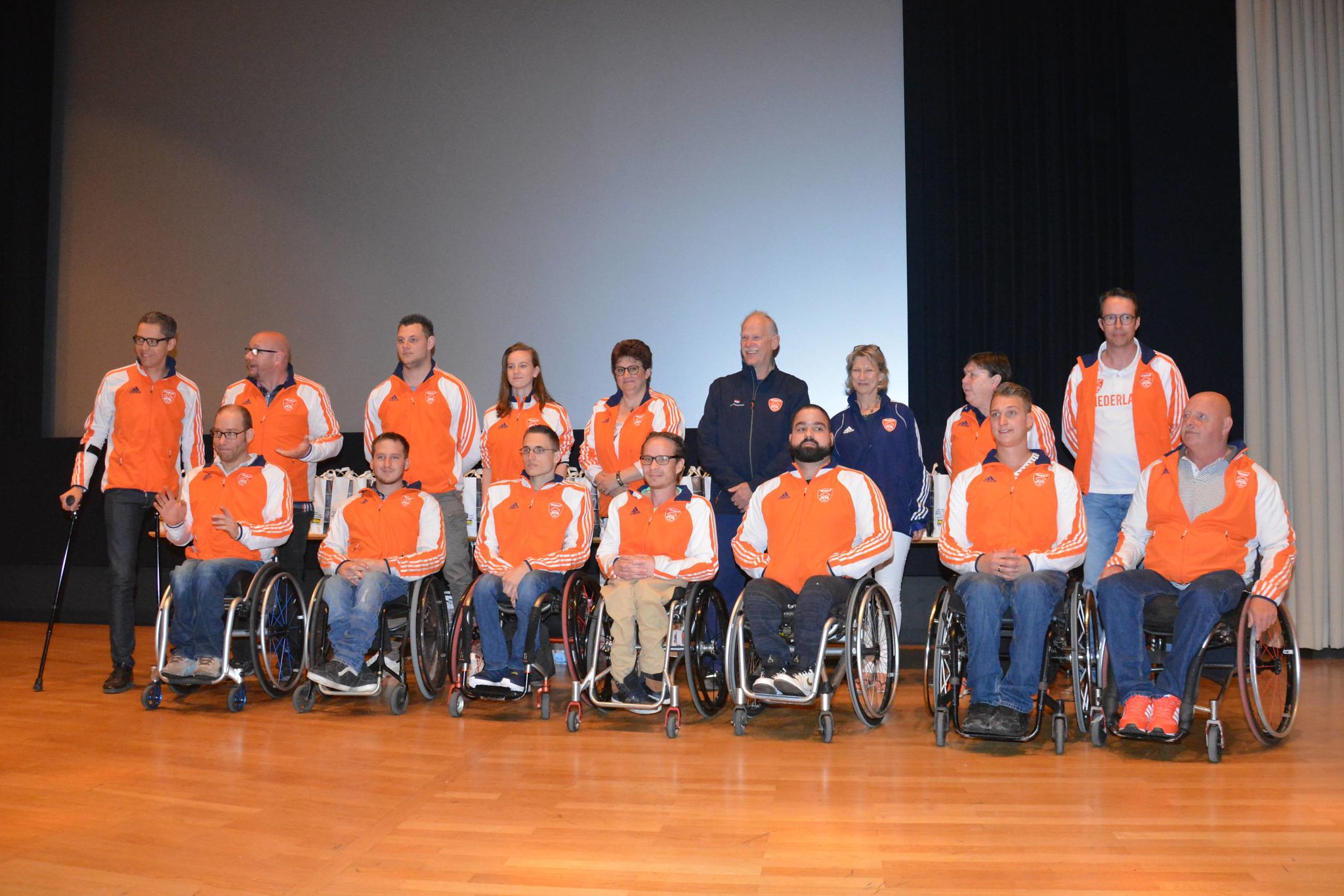 The start:
In 1978 in The Netherlands power wheelchair hockey started in the schools for needed persons (we call it Mythylschool). They played a friendly game as classmates together with hand moved wheelchair players. Because of the power wheelchairs the teachers started to create specific game rules and separated the two and named it wheelchair hockey or H-Hockey
In those days the game was played with a boarding of 10 cm high, in a field of 20×10 mtr, with goals on the back line with a length 2.20 cm and 45 cm high. They played the game with 3 field players and goalkeeper.
When the competition was started, the sport was supported by the association of handicapped people. They gave more structure to the sport and organised the structure of the competition, although the clubs organised the competition days themselves. Competition days were played all over the country.
The sport evolved over the years. At the top level of the leagues a bigger field was needed. The lower goals were put into the field and the boarding was made higher up to 20 cm. Also a field player was added.
In 2010, with the introduction of the total sport Wheelchair Hockey (power and manual) under the association of field hockey (KNHB), a new era started. A national team was introduced and contact was made with the international game of wheelchair floorball. This had a big effect on the game played in Holland. For example the higher floorball goal was introduced in the game. A bigger field, 26×16 mtr was a sort off in-between format.
In 2019 the international game, a field of 40×20 mtr. – 5 field players – higher boarding (50 cm), is introduced in the highest league of a total of six leagues (of seven teams each).
In The Netherlands the sport is for everyone. So the competition is classified into different levels. For the lowest league there is a small field (20×10 mtr), a large field (26×16 mtr) game in the middle league, and at the top level (Hoofdklasse) the International Wheelchair Floorball (40×20 mtr) game.
The Paragames Breda:
In 2011 the first Paragames Breda was organized. Its purpose was let national teams compete against each other and also to develop countries who are starting the sport. Every two years the Paragames Breda is organized and each year new teams of new countries competed in the tournament. All tournaments were (until 2019) won by the the national team of Sweden.
The national team of The Netherlands:
The Dutch national team started in 2010 and went on there first tournament to Jablonec and Nissou in the Czech Republic (3th place in a four country tournament of six teams). In 2011 there was the first Paragames Breda (3th place in a six country/teams tournament). In 2012 they went to the tournament organized by RSG in Hannover Germany (2nd place in a 4 country tournament with six teams). In 2013 the Dutch team went in April on a demo game against the national team of the Czech Republic during the national super final of floorball in the O2 arena in Prague. In June the second Paragames Breda was played (3th place in a seven nation tournament with eight teams). In 2014 the national team played a Rink Hockey tournament in Nantes France (first place). In 2015 the first tournament was organized in Nottwil Switzerland. It was the first time that the Dutch played with a second national, a youngster team of talents. The national team ended third in a three nations tournament with six teams). The Paragames were very successful. The national team played the final against Sweden but lost (seven nation tournament, eight teams). In 2016 in April the second tournament in Nottwil Switzerland was organized. The national team played the final against a team of the Czech Republic and lost (eight nation tournament with nine teams). In may the Dutch team went for the second time to the tournament in Nantes. In October the Czech Republic organized the first EWFT (European Wheelchair Floorball Tournament) with 4 countries. The Dutch team ended up forth. In 2017 the national team went for the first time to the Malmo Open…. under construction…